Afgelopen donderdag zag ik de film Grace of Monaco. Hij werd ook vertoond op het Filmfestival van Cannes en daar werd hij absoluut niet goed onthaald. Benieuwd naar mijn mening?
This Thursday I watched the movie Grace of Monaco. He was also shown on the Cannes Filmfestival and not that many people liked it there. Are you curious to see what my opinion on this movie is?
De film Grace of Monaco vindt plaats in de jaren 60 van de vorige eeuw en gaat over de bekende Hollywood-actrice Grace Kelly. Zij trouwde met Rainier III van Monaco en werd dan ook prinses van Monaco. In 1982 stierf ze door een tragisch ongeval met haar auto.
The movie Grace of Monaco is set in the 60s of the last century and is about the famous Hollywood actress Grace Kelly. She married Rainier III from Monaco and became the princess of Monaco. In 1982 she died due to a tragic car accident.

Het verhaal gaat als volgt: de film begint wanneer je ziet dat Grace Kelly op een filmset zit en dat er op het radionieuws wordt gezegd dat ze gaat trouwen met Prins Rainier III van Monaco. Dan springt het verhaal enkele jaren verder en zie je het echtpaar in hun paleis in Monaco. Frankrijk is in oorlog met Algerije en Charles de Gaulle (de president van Frankrijk) wil Monaco inpalmen. Dit probeert de prins van Monaco te voorkomen, maar Grace Kelly heeft op haar beurt ook wat problemen: zou ze opnieuw gaan acteren of niet?
The story goes like this: the movie starts when you see Grace Kelly on a filmset and on the radio you hear the news that she will be marrying Prince Rainier III from Monaco. Then the story skips a few years and you see the couple in their palace in Monaco. France is in a war with Algeria and Charles de Gaulle (the president of France) wants to take over Monaco. The prince of Monaco tries to avoid this, but Grace Kelly is also dealing with some issues: would she start acting again or not?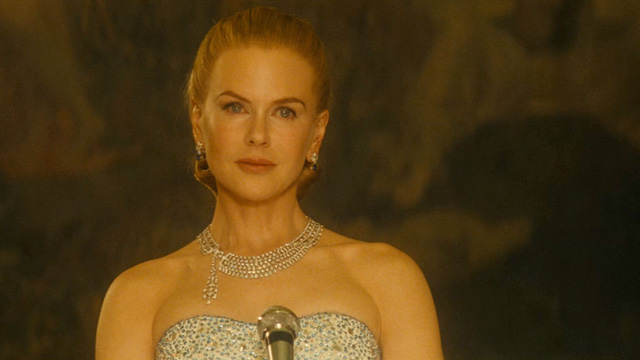 In de film Grace of Monaco speelt de beroemde actrice Nicole Kidman (als Grace Kelly) aan de zijde van Tim Roth ( als Rainier III). Nicole Kidman heeft zeker iets weg van Grace, maar alleen vond ik het spijtig dat Kidman de laatste tijd zoveel botox heeft gespoten. In de film waren er veel close-ups van haar gezicht en daarop zag je duidelijk dat er niet zo veel emotie inzat. Daardoor kwamen niet alle stukken even 'echt' over.
In the movie Grace of Monaco the world famous actress Nicole Kidman (as Grace Kelly) plays at the side of Tim Roth (as Rainier III). Nicole Kidman definitely looks a little like Grace, but I didn't like the fact that Kidman has been using a lot of botox lately. In the movie there were a lot of close-ups and there you really saw that there wasn't a lot of emotion in it. This way not all of the scenes looked as 'real'.
Het verhaal op zich vond ik wel leuk, mede omdat ik heel geïnteresseerd ben in de jaren 60, maar soms vond ik het echt ingewikkeld omdat ik bijvoorbeeld op voorhand niets wist van de oorlog tussen Frankrijk en Algerije. Wanneer je echter wel op de hoogte bent van alle spanningen tussen Frankrijk en Monaco en je wil hier een film over zien, dan zou je deze film waarschijnlijk super vinden.
I liked the storyline, also because I'm really interested in the sixties, but sometimes I thought it was slightly too complicated because I didn't know much about the war between France and Algeria before watching the movie. If you know about the tension between France and Algeria and you want to see a movie about it, you'll probably like this one a lot.
Nu misschien nog wat achtergrondinformatie waarom de film zo slecht werd ontvangen op het Filmfestival van Cannes: de familie van Grace Kelly (en dan vooral haar kinderen) wilden absoluut niet dat er een film werd gemaakt die haar leven op deze manier zou afbeelden. De film is namelijk niet helemaal waar: er zijn feiten in verwerkt, maar sommige delen zijn er ook bij verzonnen of zijn geromantiseerd. Ook wilde de Amerikaanse distributeur van de film hem eerst niet uitbrengen in de VS en hierdoor kregen veel mensen al een negatieve indruk van de film, nog voor ze hem hadden gezien.
Now maybe a bit of background information about why the movie wasn't a big succes on the Cannes Filmfestival: Grace Kelly's family (and then mostly her children) didn't want a movie that portrayed the life of their mother in such a way. The movie isn't entirely true: there are facts in it that, but some parts were completely made up or romanticized. The American distributor for the movie also didn't want to play it in the US at first and this way some people got a negative impression of the movie even before they had seen it.
Mijn eindoordeel? Ik was wel wat teleurgesteld over deze film omdat ik er meer van had verwacht. Ik had op voorhand ook geen trailer bekeken en ik wist eigenlijk ook niet veel over het leven van Grace Kelly. Als ik wat beter ingelicht was had ik de film misschien meer begrepen, maar dit was nu niet het geval. Ik raad deze film echter wel aan aan mensen die houden van de geschiedenis van Monaco of die graag kijken naar films over de jaren 60. De kostuums zagen er namelijk prachtig uit!
My final vote? I was slightly disappointed when I saw this movie because I had expected more of it. I also hadn't looked up the trailer or anything so I wasn't informed well. Maybe if I had been better informed about the history of the country I might have understood it better, but this wasn't the case. I do in fact recommend this movie to anyone who is interested in the history of Monaco or who likes watching movies about the sixties. The costumes were absolutely beautiful!
Ben jij van plan deze film te gaan zien?
Are you planning on watching this movie?
~ Hannelore